Jobs
Current Job Listings 14 Total Jobs.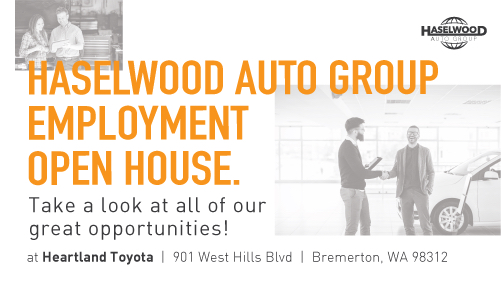 "Creating remarkable experiences for each other and our communities, with integrity, respect, and loyalty."
The Haselwood Auto Group is committed to being an integral part of the community while providing meaningful careers to our associates. We consider our team members one of our greatest assets, and strive to create amazing opportunities! Are you ready to become part of this incredible team? 
Below is a list of our current openings. Click on the job title to learn more!
Automotive Technician
Bremerton, WA, USA
Full Time
Customer Service Representative
Bremerton, WA, USA
Full Time
Detail - Window Tint
Bremerton, WA, USA
Full Time
Finance Manager
Bremerton, WA, USA
Full Time
Ford Diesel Technician
Bremerton, WA, USA
Full Time
Lot Attendant
Bremerton, WA, USA
Part Time
Lube Technician
Bremerton, WA, USA
Full Time
Master Technician
Bremerton, WA, USA
Full Time
Parts Shipping and Receiving Clerk
Bremerton, WA, USA
Full Time
Quality Assurance Manager
Bremerton, WA, USA
Full Time
Sales Manager
Bremerton, WA, USA
Full Time
Salesperson
Bremerton, WA, USA
Full Time
Service Advisor
Bremerton, WA, USA
Full Time
Wet Work Automotive Detail
Bremerton, WA, USA
Full Time